Social media is here to stay – in fact, in 2019 over 2.4 billion of us will have one or more social accounts.
Social networking has largely affected the way people go about with their daily lives on both a personal and business level.
In business – not having a social media presence is largely considered detrimental to one's ability to network effectively and build professional credibility within an industry.
It is widely agreed, that the job families that can benefit the most from active social media use, are those that require the individual to instigate first contact, network, build brand awareness and encourage wider engagement with their target audience.
This is especially true for business developers, sales executives, account managers, recruitment consultants, inside sellers or really anyone who's client facing.
Forbes recently reported that:
74% of salespeople who beat their quota by 10% or more say they have an excellent understanding of the use of social selling for prospecting, nurturing relationships and closing deals.
In the immortal words of Alec Baldwin's character in the 1992 film Glengarry Glen Ross, when speaking to an underperforming group of sales people…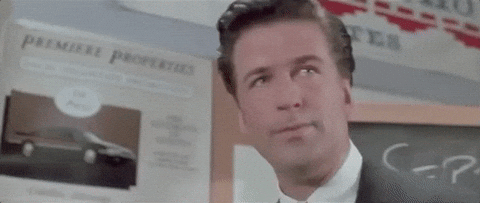 So, where to begin? What are the best social platform(s) to invest your precious time into?
We advise that if you're looking to develop a strong personal business brand – invest in LinkedIn & Twitter (or Xing if your business market favours it).
LinkedIn is a business and employment-oriented service that operates via websites and mobile apps. Launched on May 5, 2003 it is mainly used for professional networking, including employers posting jobs and job seekers posting their CVs. 
LinkedIn allows members (both workers and employers) to create profiles and "connections" to each other in an online social network which may represent real-world professional relationships. Members can invite anyone (whether an existing member or not) to become a connection. 
Twitter is an online news and social networking service on which users post and interact with messages known as "tweets" – tweets are restricted to 280 characters. Registered users can post, like, and retweet tweets, but unregistered users can only read them. 
Both platforms have their own individual merits – with LinkedIn being our No.1 choice for social outreach – originating an impressive 50 percent of B2B website clicks, almost double that of Twitter which comes in a worthy second.
These platforms will help you build personal social impact and increase your bottom line.
Check out our blog and video posts where we include weekly tips to help fast-track you to social selling stardom!
So what are you waiting for? Building a personal brand on social media doesn't happen overnight – but if you're really serious about the way you present yourself within your industry – the investment is more than worth it!
Check out our posts to help you master LinkedIn & the art of Social Selling!